WES LANG "THE STUDIO"
About two weeks ago, Los Angeles based artist Wes Lang came to Aarhus to set up his very first solo show in the framework of a museum. During this rather short period of time Wes has not only been filling up one of ARoS' white gallery spaces but, as a special part of the new exhibition, he has also been setting up his full working studio. From saturday, and untill the 7th of September 2014, Wes Lang's "The Studio" is open for everyone.
Completed with sketches, inspirational photos, book shelves, a printer and half-finished paintings Wes' studio reflects his working process and gives a unique insight into his creative universe. "We haven't faked anything. The paint on the floor and the walls are there because I have been working here." Making the museum guards staying late, Wes has been using ARoS as his space for creative expression and he has been working hard to make the studio as authentic as possible. We were so lucky to get the opportunity to follow Wes in his process over the past two weeks, and this morning we finished a portrait video which will be shown in the exhibition. Here you can listen to some of Wes' own reflections on his works and see how the exhibition has been built up.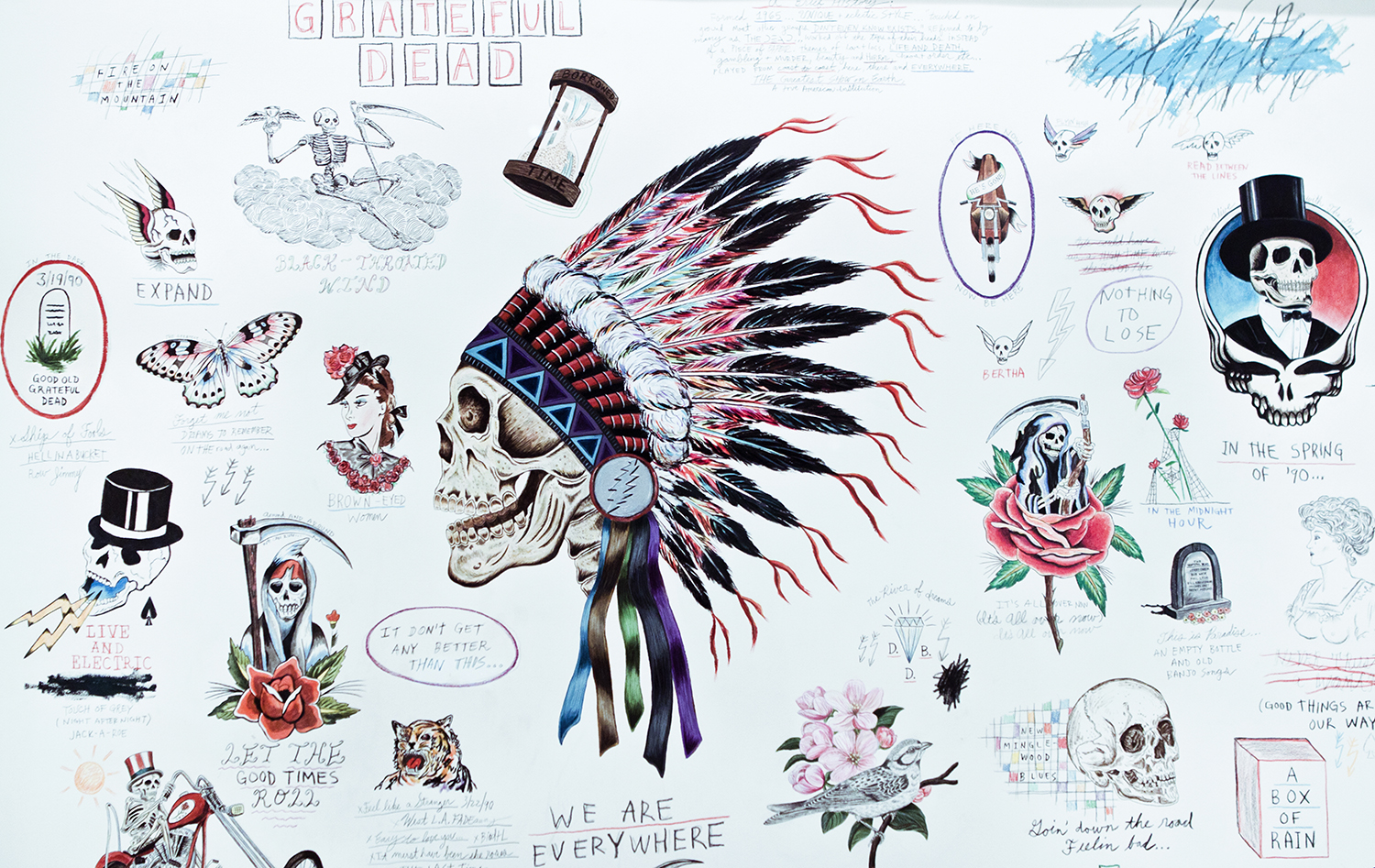 ALL PHOTOS BY RIKKE LUNA © I DO ART AGENCY
Wes Lang is a true collector and all through his upbringing he has been building up a vast collection of music, artifacts from the american native culture and aesthetic, playboy magazines and obviously skulls in all variations. These fascinations work as catalyst for his work and inform his raw mix of delicate and rough motives. Often Wes' imagery contain stories about himself, his girlfriend or friends, using the common american history and symbolism to tell his personal story. Even though the over-all expression seems a bit dark at first sight, Wes' work always bears a strong sense of positivty. Writings from songs, books and ancient chinese philosophy appear in Wes' paintings to reveal insights in his positive and hopeful view on life. We highly recommend that you visit ARoS to get the full experience of Wes' amazing work.
WES LANG | "THE STUDIO"
From the 29th of March to the 7th of September 2014,
ARoS Aarhus Museum of Art, Aros Allé 2, 8000 Aarhus.
RIKKE LUNA & MATIAS
Rikke Luna (f. 1988) og Matias Albæk-Falk (f. 1988) er stiftere af idoart.dk, og driver derudover formidlingsbureauet I DO ART Agency samt I DO ART Books.